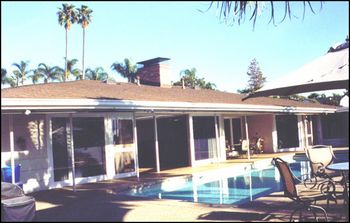 Swimming pool and recreation area in the rear of the house.

A 1949 CHRIS A. COSGROVE MID-CENTURY MODERN RANCH HOUSE
This San Diego Mid-Century Modern house is one of only a few homes from this important and interesting era that have been designated as San Diego Historical Landmarks. Last year, Legacy 106, Inc. presented a paper on mid-century modern commercial buildings at the Save Our Heritage Organisation's (SOHO) Modernism Weekend. Ronald V. May talked about the psychology behind the zany architectural designs often found with this style. We strongly support SOHO's enthusiasm to promote a heightened understanding and appreciation of San Diego's mid-century modern architecture and architects.

The Chris Cosgrove House is associated with persons significant to the post World War II San Diego real estate and clothing industries. Chris A. Cosgrove and David G. Fleet were leaders in the emerging post-war real estate industry throughout the City of San Diego. The Ratner family was a leader in the electrical contracting and clothing industries and they helped shape San Diego's social and economic history during the same period.

Chris A. Cosgrove was a significant land developer in San Diego County during the post World War II 1940s and 1950s eastern expansion of the City of San Diego. In his 65-year career, he was a pioneer builder of over 3,000 homes and commercial properties in Point Loma, College Heights, Talmadge, Rolando, Cosgrove Heights, Kensington, Coronado, La Mesa, Alpine, Rancho Santa Fe, Los Angeles, and Palm Springs.

He was a recognized custom-home designer, who seized upon the fashionable architectural themes of post-war California modernism and favored his own version of ranch style houses that physically embraced backyard outdoor recreation. Many of his buildings exhibit his distinctive flagstone masonry facades.

Later owners Nathaniel and Sally Ratner sold the house to David G. and Louarn Fleet in 1976. David G. Fleet was the son of Rueben H. Fleet, who with his family has made significant contributions to San Diego's housing development and social history. As early as 1932, Rueben H. Fleet and son David G. Fleet relocated Consolidated Aircraft from Buffalo, New York to San Diego.

Cosgrove's brand of FHA-influenced non-Spanish style homes marks the final stage of primary real estate development in Kensington. The Great Depression and a Congressional building moratorium during World War II terminated the Kensington Architectural Board, which also suffered the untimely death of master architect Richard Requa in 1941. Cosgrove, along with other builders in Kensington, took advantage of the regulatory vacuum of the late 1940s to develop high-end custom homes along in this area. This house is an excellent example of this recognized post war building style.