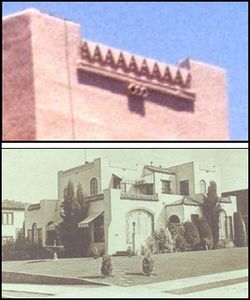 Historic photo of the Irvine and Flora Schulman House. The upper photo is a contemporary view of the Art Deco Zig Zag detail that runs along the parapets of the house.

RECOGNITION OF AN IMPORTANT LEADER IN THE JEWISH COMMUNITY
The Irvine and Flora Schulman House is associated with persons and events significant in the City of San Diego, California and California history to the Jewish community. The Schulman family commissioned the house and lived there until 1937. Working from the house, Irvine, Flora, and their children developed a home furnishing industry that would eventually span six decades in San Diego.

The success of Irvine Schulman's Globe Outfitting Company and Globe Furniture Company enabled his son, Victor J. Schulman, to become an influential and important leader in philanthropic circles of the Jewish community in San Diego, most prominently during the 1950s through the early 1990s.

The 1926 Schulman House retains the defining Spanish Eclectic, Pueblo Revival architectural characteristics that were present in 1926 and it has recently been completely renovated.

Recent research after the designation of the house uncovered new evidence to show that the American Building and Investment Company built the home, giving compelling and exciting evidence that the house was designed by architect Wayne D. McAllister, perhaps with the help of his designer wife Corinne Fuller McAllister.

Wayne D. McAllister is regarded as a master architect whose professional career began in San Diego and spanned 74 years in California and Nevada. McAllister and his wife and architectural partner Corinne Fuller McAllister are also known for their work with the Agua Caliente resort in Tijuana, Mexico.