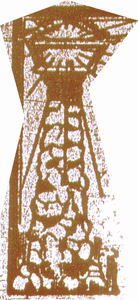 The Lighted Cobblestone Entrance Gates to Kensington Park are Character-Defining Elements to this Historical San Diego Neighborhood.

Improved Water Delivery System Aids Kensington Park

From City of San Diego and San Diego County: The Birthplace of California by Clarence Alan McGrew, 1922

On June 1, 1910, James A. Murray and Ed Fletcher bought the entire Flume Company property for $150,000 and immediately began reconstruction of the system.

They increased the height of the Cuyamaca dam by about two feet, enlarged the spillway, raised the concrete diverting dam on the San Diego River, twenty-two miles above Lakeside, repaired the flume line, built several large siphons by which about six miles of wooden flume were eliminated and re-lined the flume with a composition which added much to its usefulness and age.

The name of the system was changed to the Cuyamaca Water Company.

The Cuyamaca company later took over the entire distributing system in Normal Heights and Kensington Park, and is now furnishing about 11,000 people with water in La Mesa, Spring Valley, Lemon Grove, East San Diego, Normal Heights and Kensington Park.