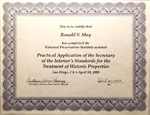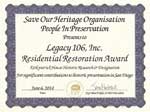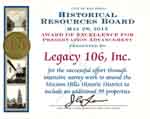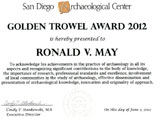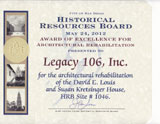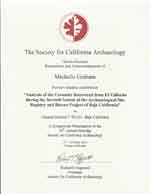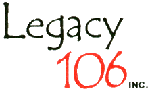 Archaeology &
Historic Preservation Consultants
Historic House Research
Historic Landmark Nomination and Mills Act Assistance
San Diego, California
Professional Staff
Since 1970
Historic & Prehistoric Archaeology
Historic Building Research / Historic District Investigation
Mills Act Research Assistance
California Historic Research
CEQA Project Processing
NEPA Review and NHPA Section 106 Studies
Environmental Land Use Issues Research
Historic Preservation
Ronald V. May, RPA • Registered Professional Archaeologist
President and Principal Investigator

Phone 858-459-0326
Legacy106inc@gmail.com

---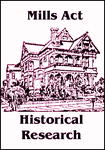 Legacy 106, Inc. offers a wide range of environmental services to private and governmental agencies. Our professional staff has thirty-five years experience in local, state, and federal government with expertise in historic and prehistoric archaeology, historic research in southern California, and California Environmental Quality Act (CEQA) project processing. This includes review of environmental land use issues such as environmental initial studies, environmental impact reports, archaeology and historic impact mitigation.
Legacy 106, Inc. is listed on the City/County/Port District Small Companies Consultant's List and the City of San Diego's Historic Resources Board's Consultant's List. Legacy 106, Inc. has a staff registered professional archaeologist.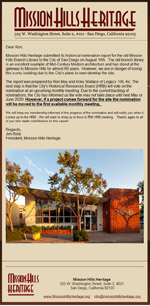 August 28, 2019 - Mission Hills Heritage Letter
Mission Hills Heritage submitted its historical nomination report for the Old Mission Hills Branch Library on August 16, 2019. The report was prepared by Ron May and Kiley Wallace of Legacy 106, Inc. It is uncertain the exact date when the vote will take place on this project. More details at www.MissionHillsHeritage.org.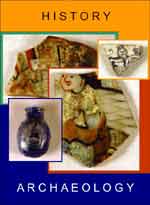 Legacy 106, Inc. Wins California Appellate Court Decision!
The California Appellate Court upheld the October 2014 Superior Court Decision that California Law protects the Constitutional rights of Free Speech in the defense of historical buildings at City Council hearings. The Appellate Court affirmed copyright, intellectual property rights, and the right to post reports on the Internet to better inform the public on historical matters. Authors of environmental protection reports and technical history reports have this protection to ensure the elected decision-makers will receive the best possible and objective information for making decisions. Legacy 106, Inc. is proud to defend Free Speech rights in historic preservation. Click here to read the Court Decision. (PDF)