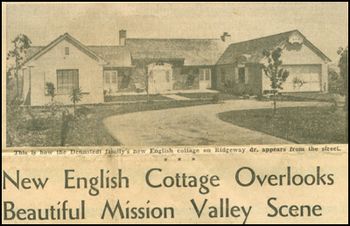 Distinctive Quality Homes

A Beautiful Home by the A.L. & A.E. Dennstedt Building Company
This house is an excellent example of pre-war 1940s Old English Manor style architecture and representative of the shift away from the Spanish Eclectic design themes of the "Southern California Style" that dominated Kensington in its formative years from the 1920s-1930s.

Although San Diego's 1935-1936 California Pacific Exposition in Balboa Park influenced spurts of Spanish style house designs as late as 1940, magazines promoted modernism and tradition in housing styles. The houses built following the War Powers Act of 1935 and the German invasion of Poland in 1939 which energized President Franklin Delano Roosevelt and the United States Congress to prepare America for possible war, reflected changes in design preferences away from Spanish Colonial variant styles towards then more desirable California Monterrey style, French, and Old English home designs. Although the Dennstedt's had originally planned to build a "hacienda" style house in Kensington, they changed their minds in 1941 and retained Henry Landt to design an Old English manor house because this style had become more popular by the late 1930s and pre-war 1940s.

Through their companies, the Dennstedts built many homes, commercial buildings, and apartments in San Diego and their architectural contributions are an important part of San Diego's building legacy. Only a handful of studies have been made on post Depression Era architecture in Kensington or the builders who called this community home. The A.L. and Cleveland Dennstedt House is significant because it was the personal residence of the builder and his family and because it embodies distinctive elements of pre-war Old English Manor style architecture reflecting changing architectural preferences in Kensington and San Diego. The house is in excellent condition and has remained in the Dennstedt family continuously since its construction.