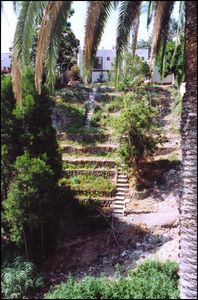 Terraced rock walls leading down into the canyon behind the house that ended at a concrete dance floor used for parties during Prohibition.

THE FASCINATING HISTORY OF KENSINGTON POINT
This 1928, one-story, Spanish Eclectic, Mission Revival house in Kensington Point is directly associated with an important historical step in the development of power infrastructure into the Kensington community. The subdivision, Kensington Point, was created by executives of the Crescent Realty Company and San Diego Consolidated Gas & Electric Company as a strategy to deliver power infra-structure to east Kensington.

Behind the house are terraced cobblestone walls which descended into the canyon with a series of steps to a cement dance floor that was used for private parties and dances during the Prohibition era. The rock walls throughout Fairmont Canyon are part of a folk building tradition that contributes to the cultural landscape of the immediate area.