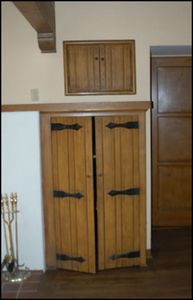 Detail of the living room cabinets and the panel door to the right.

The McClurken Legacy

The early history of this property goes back to land owned by Laura and John Parks McClurken who came to La Mesa in 1905. Their son, John A. McClurken was on the chain of title. (Some sources misidentify John P. as James Parks McClurken.) After John P.'s death, their son John A. and his wife Marjorie apparently continued the real estate business started by his parents. They were the owners of record in August 1938.

More information is known about John Parks and Laura than the next generation who sold the Mt. Helix lots. It was from their history that the community developed and thus the information that was found is included in this report to provide a better appreciation for the roots of the community. John Parks was a teacher, newspaper editor, and pioneer realtor. He and Laura owned a large tract of property on top of Mt. Helix, including a 1200-acre ranch that they eventually partitioned into Mt. Helix Calavo Gardens.

References to the McClurkens generally arise in histories of the Mt. Helix Cross and Easter Sunrise ceremonies, which note that McClurken purchased his lots for $1.20 acre and that he was known as Mt. Helix's first known resident (apparently ignoring Laura McClurken's presence for posterity) (Newsletter of the Mt. Helix Park Foundation, August 2002).

From her obituary, we learn that Laura was born in St. Louis and lived in the Spring Valley, La Mesa, and El Cajon area for 55 years. She was a graduate of Texas Christian College in speech and drama. She eventually went to New York City to attend a Bible school. She and John Parks McClurken married on May 23, 1901 in Illinois where he worked as the editor of the Coulterville News.

The 1900 U.S. Census had listed him as age 44 (born in 1855), single, living with his widowed mother Mary in Randolph, Illinois (Coulterville precinct) where he worked as a real estate agent. From 1904-1905 Laura taught at the mission school at Fort Sill, Oklahoma, which in that period was still Indian Territory.

In 1905 they moved to Spring Valley, California where they had gold mining and other interests. They lived in that area until 1925 when they moved to Los Angeles. The 1910 Census shows they lived on Eleventh Street with son Johnathan W (7), Theodore P. (2), daughter Mary E. (4) and John's widowed mother Mary (75). He listed his occupation as "agent / real estate," that they had been married 8 years, and that his age was 45 (it was really 55).

Her obituary states that in the early 1900s she "was credited with keeping Graham Memorial Presbyterian Church of Coronado in operation during the illness of its minister. She was a familiar figure as she rode a bicycle to call upon members." (April 2, 1969, San Diego Union, obituary, Mrs. Laura McClurken, 91, of 1349 La Cresta Blvd., El Cajon).

Her church interests also extended to the Golden Hill United Presbyterian Church, La Jolla United Presbyterian Church, and First United Presbyterian Church. The McClurken family remained in Los Angeles until 1933. At some point in this period Mary's activism led her to the position of state vice-president of the Women's Christian Temperance Union. The family's Presbyterian beliefs continued to the next generation, as their son Paul became Reverend Paul T. McClurken, and served as the pastor of the United Presbyterian Church at Northampton, Massachusetts. Their other children were Mrs. Mary E. Forsyth of La Jolla, Dr. Mark J. McClurken of Los Angeles, and John A. McClurken of San Diego. (Obituary for John Parks McClurken, San Diego Union, April 5, 1943)

Today the Calavo Gardens area of Mt. Helix in La Mesa is known as an elite tract where hill top homes have expansive views of the surrounding valleys. Mt. Helix is now considered by realtors and home buyers as one of the most "upscale" of the subdivisions in La Mesa. Many of the large lots feature custom homes designed in a mix of Spanish, Mediterranean, Early California, and Ranch styles interspersed with new estates in a variety of modern styles.

Although the Mt. Helix area started to develop in the 1900s, the McClurkens involvement on their 1200 acre ranch and other acerage on Mt. Helix are not well documented except through deed transactions.

A veteran of World War I, Major Thomas Reed Bartlett, U.S. Army (ret.) and his wife, Mary Northrup Bartlett, retired to San Diego County after a long career with the United States Army that included World War I (Leonard Smith 2005). They resided at 4245 Hillsdale Road in Kensington until they could acquire property and build a home in the unincorporated area of La Mesa (Directory 1938). They selected a secluded terrace on the eastern flank of Mount Helix that overlooks Fuerte Road on the north and Avocado on the east. Tall Eucalyptus and other trees obscure the location from Grandview Drive giving little hint of the spectacular view to the south that can be seen from the house. To the west the view is exceptional, where residents enjoy an expansive view of evening sunsets and on very clear days sight of the blue waters of the Pacific Ocean.

Mary Northrup was born in Kansas on December 14, 1891 to Frank A. Northrup and Alice Robbins Northrup. She received her education in the Iola public school system and eventually went to Kansas State Agricultural College. Her sister, Lorane went to Chicago University. Mary's family were Scotch immigrants who had originally settled in New York and then Kansas. Her grandfather Levi Lee Northrup was a businessman and is credited with having been a major factor in bringing the Missouri Pacific Railroad to Iola. He was also deeply involved with the community Presbyterian Church. The family started the Northrup National Bank of Iola and the family owned large amounts of property in the area. Her father operated a flour and saw mill in town and eventually worked for the family bank as vice president.