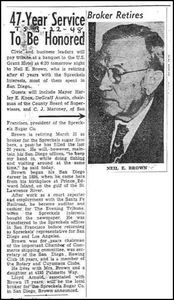 Newspaper article listing many of Neil E. Brown's accomlishments.

A MARTIN V. MELHORN EYEBROW BUNGALOW
House photo by Nancy Owsiany.

This house is located in the North Florence Heights Subdivision of Mission Hills. Alice W. Robinson was the first lot owner of record and she sold the land to Kate O. Sessions in 1904 for nursery planting. Sessions sold the lots to Gertrude Sprague in 1921.

Gertrude and Newton Sprague hired Martin V. Melhorn to build the house. Melhorn designed and built many bungalows in Mission Hills, University Heights, and other communities. Melhorn was a Master Builder and talented architectural designer. Through the Alberta Security Company, his financing firm, Melhorn acquired lots and built speculation and custom homes from Mission Hills to East San Diego. Today they are one of the largest local family-owned construction companies in San Diego. This attractive house embodies distinctive California bungalow, Japanese Eyebrow Temple variant architectural traits from the 1920s time period. It is among a cluster of Melhorn-built Japanese Eyebrow and Mission Revival Eyebrow bungalows concentrated in Mission Hills.

The Spragues sold the completed house to Joseph and Minnie New, furniture dealers who moved into the house and six months later sold it to Alfreda Brown. She and her husband Neil E. Brown lived their lives at the house.

Neil E. Brown was a cashier and bookkeeper for John D. Spreckelsí enterprises. He ascended to executive positions as general manager of Savage Tire, Spreckels Securities, Bureau of Tabulations and Audits and the Mission Beach Amusement Company, as well as Exclusive Distributor for Sea Island Brand Cane Sugars. Following Spreckelsí death in 1921, Brown expanded his political base with the San Diego Highway Development Association. He played a significant role in lobbying highway construction in San Diego during the 1930s through 1950s.

As treasurer of the San Diego Chamber of Commerce during this period, Brown lead city, county, and port district officials in promoting the 1935 San Diego Exposition and approving the Tenth Avenue Marine Terminal in 1953.

The entire neighborhood along Palmetto Way and North Florence Heights should be evaluated for historic district status at some future date.